Ladies, we understand sometimes going totally braless isn't an option. No worries, we have a solution for you!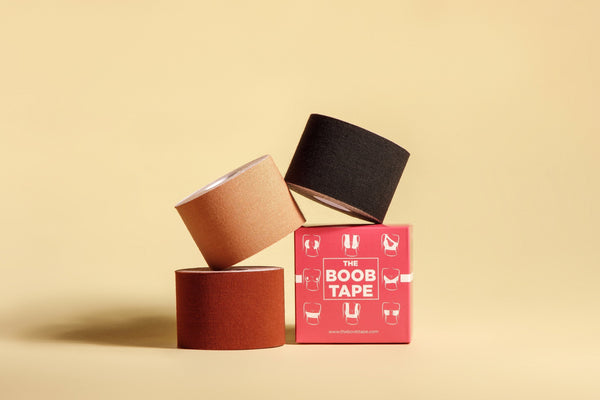 The Boob Tape is an adhesive breast tape that lifts & supports your boobs while being strapless, wireless, and invisible underneath all outfits.
Our breast tape can fit all breast size, with 16 feet boob tape roll that will last multiple uses.
✔️ Sticks to your breast for up to 12 hours
✔️ Provide lift and support
✔️ Comfortable and lightweight
✔️ Does not restrict movement
✔️ Waterproof
✔️ Safe medical grade adhesive
✔️ Latex-free & Pain-free removal
As Seen On New York Times, Good Housekeeping Magazine & Clevver Style TV
What's in the Box?
16 feet The Boob Tape roll that will last multiple uses
Matching color Nipple Covers
Instruction slip that will teach you how to use The Boob Tape with pictures that will guide you on different styles you can create for different types of tops 
Real results
"I used the boob tape for a nigth out in Vegas with an open front dress that I couldn't wear with regular bras. The tape worked amazingly, almost like a push-up bra. Easy to apply, easy to take off, and everything stayed in place all night." (Natalie L.)
"Going backless has never been easier. I've worn this boob tape about three times, and it has never slid or moved around. This tape didn't show at all with my tight backless dress. I always use it with the nipple covers to prevent pain when you peel the tape off." (Teresa P.)